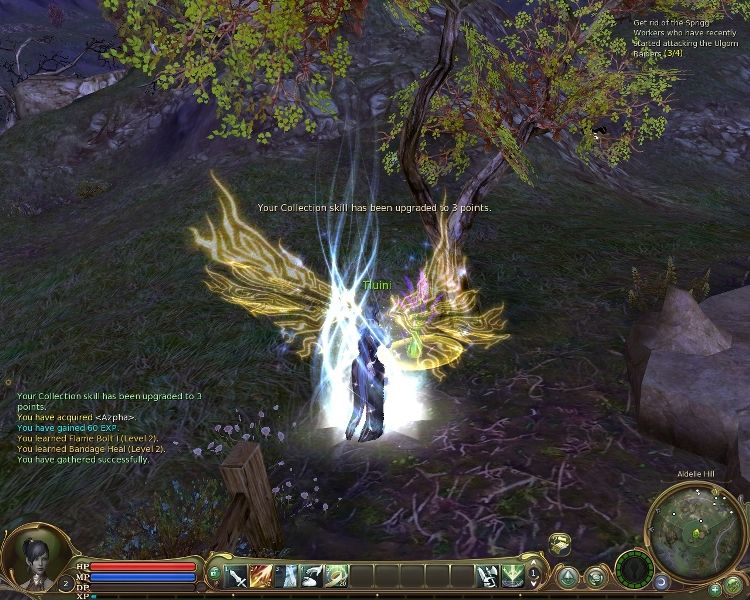 this is how it looks like. :)
Four hours after my shift, I was at the Computer Shop maximizing the X3 experience buff thas was given by NCSOFT to all AION players becuase its their anniversary. Then, it happened. My eyes hurt because of the glare and the lack of sleep but I was still able to see Orangemist (My Character's Name) transparent wings signalling that I advance another level. What made it more exciting was it will be the last time you will see those wings, for now, because my character's level reached it maximum. Yes, my toon just turned level 60.
The feeling was superb. Its like graduating college and the only thing you will be left to do is to reflect all those years spent studying. It was exhilerating. As the congratulatory messages started pouring in from all over the world, I remember how difficult things have been for me. Starting the game not even knowing anything, using W, A, S and D to move, getting bullied by the other race because they are too afraid that you might beat the hell out of them, trying to avoid aerial battles because you're not good at flying, all those bosses that made your head aches becuase you need to learn how to handle them, and maximizing your level not focusing on your gears, damn, I am really proud of myself! Haha.
Now that I am level sixty, maybe you are thinking what is left to do in AION, right? Maybe my Gamer friends will say that you can just get rich or start all over again with another character. Well, you can reallly do that. But right now, there are still a lot of things to do with Orangemist. The first thing I am working on is my gear (clothes you wear in the game). Then I am trying to enter as many instance (dungeons in other games) as possible, that way, you will only be called noob once. Haha. And finally, I am just improving my character so the moment the new patch of the game is released in June, I have nothing to fear.
The reason why online games is so addicting is the fulfillment you get every time you achieve something in the game. An online game is like life - you will be given skills needed to survive but it will be up to you what type of attack combination you will use to excel. There will be obstacles and people that may block your way, however, as long as you're ready, every thing will be okay. You will reach your limit at some point, but that must not stop you from improving.
I started AION clueless if I will ever reach max. And now that I just did, I feel that I can face anything in the game. I feel amazed.
Just like real life - you will doubt yourself, get scared, struggle, fight, bleeed and even lost something, but at the end of the day, its still the experience you gained and the lessons learned that matters.