We all have our Dolphy Story.
If we are in the same age bracket (18-20, hahaha), definitely you've watched an episode of Home Along the Riles where the Kosme family were always having a good time while eating at the dining table. I love it when Mang Kevin and Steve will always argue and the former will make something comedic about the latter. It is crazier how he always remind the Sunog Bagas of the Riles to stop with their vices. Happy Times!
I am sure you also waited for the replays of John and Marsha at RPN 9. You will also laugh your hardest every time Matutina will always say, "Kaya ikaw John, magsumikap ka…" Classic.
But if there is one memory of Dolphy that I will never forget, it will be this.
Enjoy the video!
Dolphy, crying and putting makeup, dancing with his two sons, in drag! No wonder he is timeless. He knows how to put A in Acting and he really do well on it. Remember when he won the Best Actor and Best Supporting Actor in a single night? Only Dolphy can do that! And no matter how big a star The Majesty he, he still act as a commoner. He remains humble in spite of all the blessings that came his way.
Now, he is gone. And, I am sure, he is in a better place now.
Enjoy the Journey Sir. Make God, the angels and all his saints laugh with all of your jokes and antics. We will miss you, the way they miss you while you are making all of the Filipinos forget their problems with your shows and movies.
R.I.P, King Dolphy!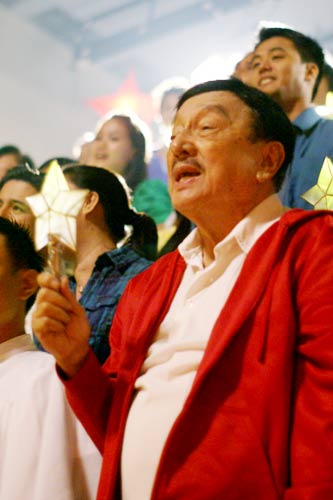 I would love to hear your Dolphy story. Common, share. :D