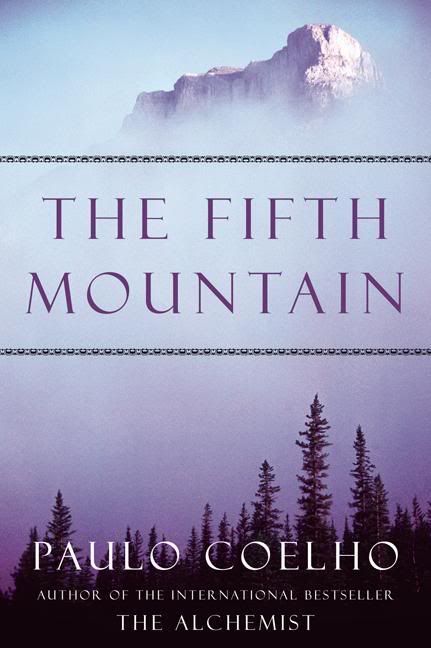 In difficult times, we often think that God doesn't answer our prayers. Worst, we even think that he makes things harder for us. Don't fret, it really happens. There will always be a phase in our crazy lives where times will be harder that we expected, problems will be more difficult, and it seems that hope in Pandora's Box was already gone way before it has been opened.
It's embarrassing to say that, though I love books, I really don't read the bible. I'd rather listen to a prince's homily then just create my own version of it in my said so I can apply it in real life. I am really not the religious type, though I believe in God and Faith and making sure that you follow the testaments and the teaching of the church, I am really not the religious type. :D
This is me introducing The Fifth Mountain.
What is it: If you know the story of Elijah, this will be an easy read. Who is Elijah? He is the guy in the Bible that God choose to defend Yahweh over the Phoenician god Baal. The book was written in a way that you will be able to understand what is happening on Elijah's mind.
Though its fiction, it is like reading the story on the bible, but with a very conventional attack on it.
It deals with how Elijah accepts, struggled, and succeeds all of the orders given to him.
What I like about it: There are a lot of things. Paulo Coelho really has ways of making me think using his books. It's nice knowing that though Elijah was privilege enough to be chosen to execute God's amazing plan, he was also human, he struggled and also doubt himself. Like all of us.
Elijah was able to understand his purpose and what is so amazing about him is though everything seems to give up on him, he never give up on his faith.
There was this part in the book where Elijah said:
If we compare the list of my sins with the list of Thy sins, Thou shalt see that Thou art in my debt. But, as today is the Day of Atonement, give me Thy forgiveness and I shall forgive Thee, so that we may go on walking at each other's side.
That part really stands out. This is really something that will stuck on me, that way, if my faith will be challenge with all the tribulations happening around me, I will just remember God as my friend.
What I don't like about it: Old English! Haha. Some parts were really hard to understand. It feels like learning Hamlet back in High School. I even have to refresh myself about the differences between thou, thee, and thy to be able to understand the book well. There were also part that use the word lest, shalt, nose bleed! Up to now, I can't remember what lest means. Care to help?
Recommended for: Everyone! Because I know that all of us struggle and sometimes we lose confidence with the Lord. I do, and definitely I am working on it. This book is really a good start to get the confidence and the trust back.
And that makes book 23 for this year! :)