By Mitch Albom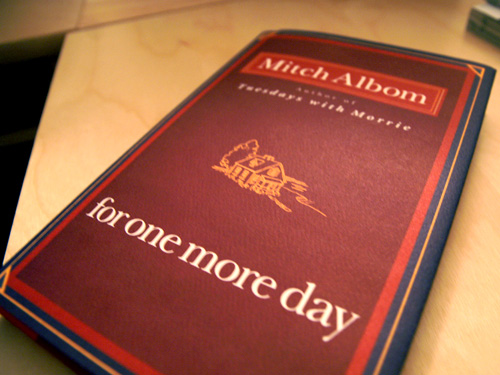 Who would have thought that I am already at Book 34 for 2012? LOL. I discovered the book, on
Bagotilyo's Bookshelf
. It got my attention right away. Knowing that it is Mitch Albom and reading one of his books
before
, I know this is something worth reading.
What is it:
For One More Day
talks about a man named Charley. Charley decided to kill himself, and while he is on that process, he was able to spent another day with his Mother who died eight years ago.
What I like about it:
This one is an easy. I finished this one while my nose is giving up on me due to my irritating colds. LOL.
The book will make you appreciate Mothers more. It will make you understand their sacrifices and you will learn to value all of their hard work. There were parts where Albom talks about the moments where Charley's Mom stood up for him and where Charley never stood up for his mother, and it melts my heart knowing that sometimes, I also never stood up for my own Mother.
For One More day will make you realize how important time is. In a day where he spent it with his Mother, he realized a lot of things, and after that incident, he learned to value the things that matters. The book will teach you that you can still change. No matter how fucked-up everything seems to be, you can still pull yourself together.
Though the book has a serious story on it, I appreciate that it doesn't feel like
the world is collapsing on me (
hello,
PM
! lol) while reading it.
What I don't like about it:
Come to think of it, I really cannot find anything I don't like about it. I think I will just pass on this one.
You guys should really read this. A lot of my friends already did, and believe me, you will appreciate this more than anything.
----
Photos from
here
and
here
.